3 Stocks To Watch In The Coming Week: Walmart, Tesla, Deere & Company
Economic data Friday showed retail sales rose in January for a fourth straight month, as cheaper prices at the gas pump encouraged Americans to spend on other goods, underscoring steady consumer spending.
It appears there's nothing that can stop the upward momentum of the U.S. stock market. The S&P 500, for example, is up eight of the last 10 days and 15 of the past 19 weeks.
Despite the coronavirus threatening to blunt global growth, the S&P 500 Index not only advanced four out of five days in the past week, it posted three records along the way. What's fueling optimism are strong signs that the U.S. economy remains solid and companies are still producing better earnings results.
Economic data Friday showed retail sales rose in January for a fourth straight month, as cheaper prices at the gas pump encouraged Americans to spend on other goods, underscoring steady consumer spending.
Next week, even with some high profile companies releasing earnings, coronavirus updates will likely to grab the major attention. Nonetheless, here are three stocks worth having on your radar:
1. Walmart
Amid the robust consumer confidence, America's largest retailer, Walmart (NYSE:WMT) will report its latest quarterly earnings on Tuesday, Feb. 18 before the market opens. Consensus anticipates EPS of $1.44 on revenue of $142.57 billion.
After recording 21 straight quarters of comparable sales growth in the U.S., there is a little chance that the supercenter vendor will deliver a negative surprise.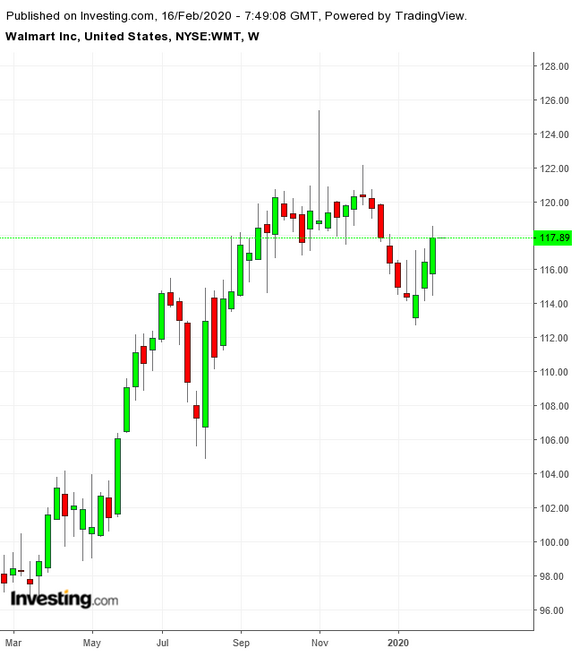 With the expectation the Bentonville AR-based retailer will report strong quarterly earnings and growing online sales, investors have pushed WMT shares up 20% in the past year. The stock closed up 0.8% on Friday at $117.89.
In its previous report, Walmart continued showing investors it is well positioned to take advantage of stronger consumer spending amid the country's ongoing, low unemployment rate. The mega-retailer reported in November that comparable sales at its U.S. business rose 3.2% from a year earlier, also boosting its full-year earnings outlook.
Comparable sales and Walmart's online expansion will be the two critical numbers investors should focus on.
2. Tesla
The excitement around Tesla (NASDAQ:TSLA) shares is likely to continue this coming week, as the electric carmaker tries to raise about $2 billion in a secondary offering, taking advantage of a strong rally in its stock price.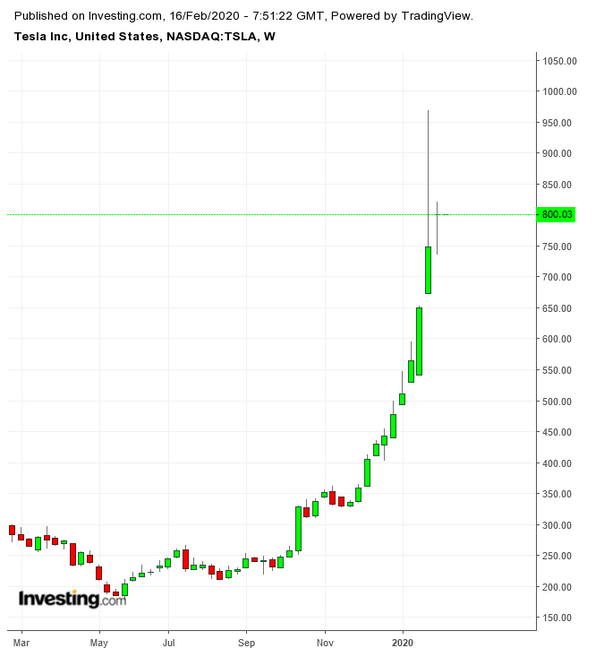 According to a Bloomberg report, the secondary offering was priced at $767 a share, representing a 4% discount to the stock's Friday close of $800.03. The stock has more than tripled since the company released the first of two straight positive earnings reports in October. The shares fell 0.49% on Friday.
Assuming underwriters exercise their option to purchase additional securities, the offering could bring in about $2.3 billion in proceeds, Tesla said in a statement. That will help fund as much as $3.5 billion in capital expenditures this year.
The offering, favored by many analysts, is yet a surprise for many after the CEO Elon Musk said during an earnings call in late January that Tesla could fund itself without Wall Street's help.
3. Deere & Company
The world's largest agriculture and construction equipment manufacturer, Deere & Company (NYSE:DE), will release its Q4 earnings on Friday, Feb. 21, before the market opens. Wall Street is expecting sales to come in at $6.24 billion and $1.29 of earnings per share.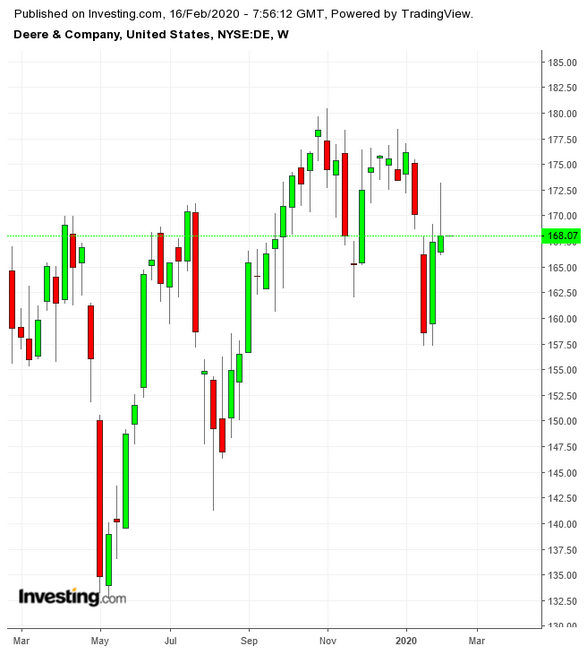 Last year, Deere pledged to lower its costs as it tried to overcome the negative impact of the Sino-U.S. trade war. The company also cut its forecast for Q4 2019 and fiscal 2020, citing the slowing global economy.
With production costs in some of its segments rising, the Moline, IL-based company has initiated a series of actions to make the organization more structurally efficient and profitable. In November, Deer said it was initiating a voluntary layoff program for salaried employees, which is expected to cost about $140 million. The company also plans to assess overseas plants to eliminate excess production capacity.
The stock has fallen 3% this year amid weakening demand. It closed on Friday at $168.07.